Giving back has always been a big part of who we are at Windermere. In the early days of our company, it was pretty simple; we would see a need and help any way we could. But as we grew, we realized we could accomplish much more if we had a common purpose. That's how the Windermere Foundation was born.
A big idea
We started with an idea that would give every Windermere agent the ability to make a difference. Housing is our business, so helping homeless families seemed like a natural fit. We later expanded that to include low-income families, with an emphasis on helping children.
Every time a home is sold
For the past 30 years, a portion of every Windermere agent's commission has been donated to the Windermere Foundation. Having 100% participation gives us a common purpose and sends a powerful message about our commitment to the community.
Who we help
Last year alone we provided funding to more than 500 organizations throughout the Western U.S. Homeless shelters, food banks, schools, hospitals, community centers, parks; the list goes on. The main thing that they all have in common is a deep devotion to helping our neighbors in need.
How we help
Our agents have proven time and time again how committed they are to making their communities a better place to live. Their generosity funds backpacks full of food so school kids don't go hungry on the weekends. They help keep families in their homes by covering housing costs. And their donations make sure the homeless are getting their most basic needs met, and the dignity that goes with it.
Thank you
If at any point during the past 30 years you've bought or sold a home using a Windermere agent, you are a part of the Windermere Foundation too, and you've helped make a positive difference in your community. And for that, we thank you on behalf of everyone at Windermere.
If you would like to learn more about the Windermere Foundation, please visit windermerefoundation.com.
This post originally appeared on the Windermere.com Blog.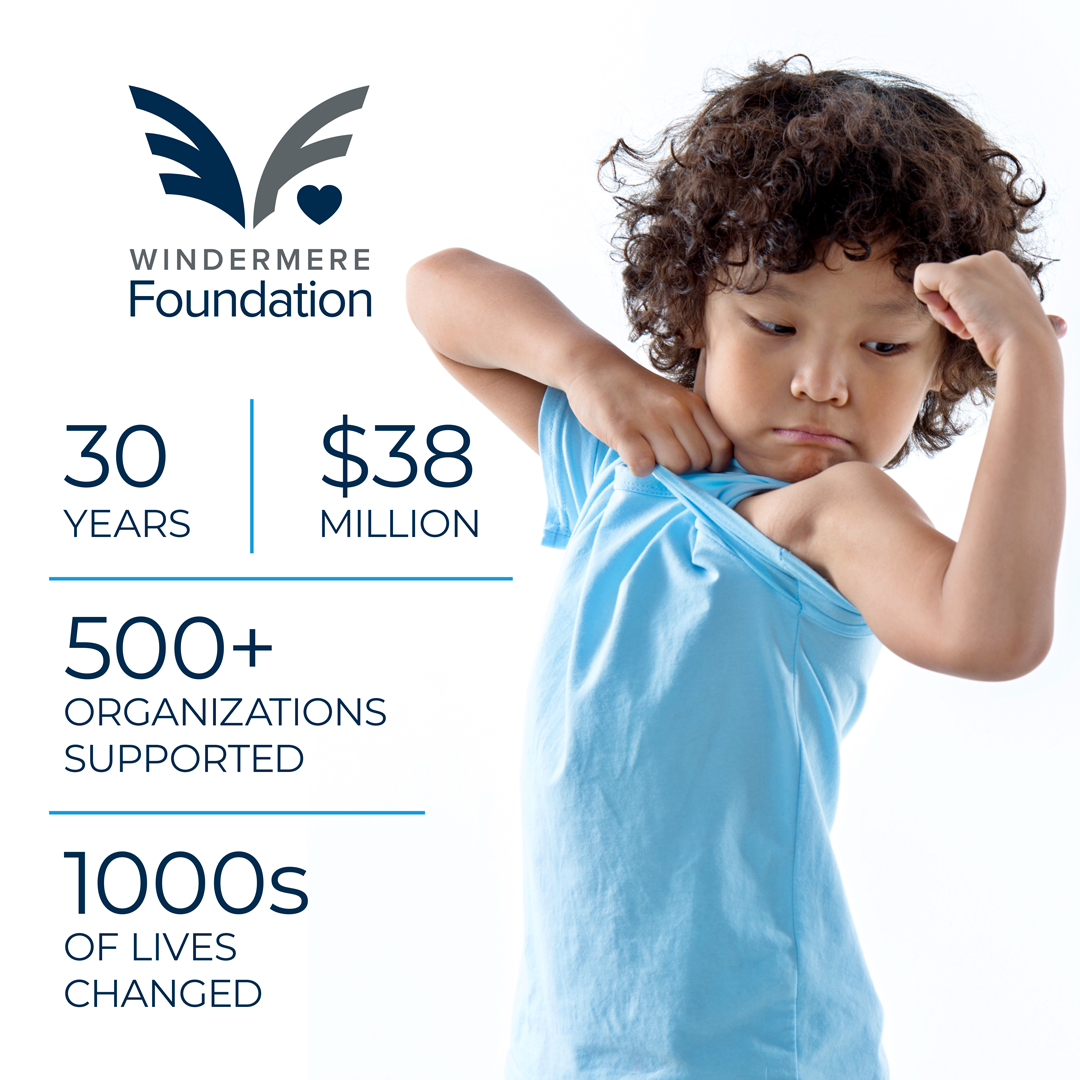 2018 concluded with another great year of fundraising and giving for the Windermere Foundation, thanks to the continued support of Windermere franchise owners, agents, staff, and the community. Nearly $2.5 million was raised in 2018, bringing our grand total to over $38 million raised since the Foundation's inception in 1989! During the past year, nearly $1.9 million was donated to non-profit organizations throughout the Western U.S. that provide much-needed services to low-income and homeless families. In 2018, the Windermere Foundation fulfilled 689 grant requests and served 507 non-profit organizations.
A portion of the money raised every year is due in part to our agents who each make a donation to the Windermere Foundation from every commission they earn. Additional donations from Windermere agents, the community, and fundraisers made up 68% of the money collected in 2018. Each Windermere office has their own Foundation funds, which enable them to support local non-profits in their communities.
One organization that received Windermere Foundation donations from several Windermere Real Estate offices in the Seattle area is Treehouse. Treehouse's mission is to give foster kids a childhood and a future. Their goal that they have set to achieve by 2022, is to see youth in foster care graduate from high school at the same rate as their peers across Washington State. And to provide them with support and a plan to launch successfully into adulthood. Donations from the Windermere Foundation have helped Treehouse clients like Ashley, get the support she needed to turn her life around.
"I didn't have a childhood that all kids should have–like making friends my age or playing sports. I changed the path that I was on because I wanted to give people a reason to believe in me. You have to want to change and speak your truth, but you can't do it without people believing in you. You can get through the darkest situations, you just gotta look for a little crack of light. Treehouse is that crack of light for me," ~Ashley
2018 also marked the third year of our #tacklehomelessness campaign with the Seattle Seahawks, in which Windermere committed to donating $100 for every Seahawks home game defensive tackle to YouthCare, a non-profit organization that provides critical services to homeless youth. While the Seahawks didn't make it past the first round of the playoffs, they did help us raise $31,900. When added to previous seasons, the total donation for the past three years is $98,700! We are grateful for the opportunity to provide additional support to homeless youth thanks to the Seahawks, YouthCare, and the #tacklehomelessnesscampaign.
Thanks to our agents, offices, and everyone who supports the Windermere Foundation, we have been able to make a difference in the lives of many families in our local communities over the past 30 years. If you'd like to help support programs in your community, please click the Donate button.
To learn more about the Windermere Foundation, visit http://www.windermere.com/foundation.
This was originally posted on the Windermere Blog.
Thanks to the generosity of Windermere agents and the community, the Windermere Foundation collected over $330,000 in donations during the first quarter of 2018. Individual contributions and fundraisers accounted for 58 percent of the donations, while 42 percent came from donations through Windermere agent commissions. So far, we have raised a total of $35,869,961 in donations since 1989 when the Windermere Foundation was started.
Each Windermere office has its own Windermere Foundation fund account that they use to make donations to organizations in their local communities. In the first quarter of 2018, a total of $521,916 was disbursed to non-profit organizations dedicated to providing services to low-income and homeless families throughout the Western U.S.
One organization that has been the recipient of Windermere Foundation funds is Youthnet, serving Skagit, Whatcom, Snohomish, Island, and San Juan Counties in Washington State. Youthnet provides caring and supportive educational and social services to youth and families to help them attain a productive and successful life.
The Windermere Real Estate/Skagit Valley office in Mount Vernon, Washington has donated a total of $1,500 to Youthnet since 2015. Their support has continued to make a difference to the children, youth, and families served.
Donations have helped Youthnet support clients like Tracey and Tom, who are struggling to care for their three young children because of their inability to find and keep jobs due to mental health issues. Support from donors such as Windermere allows Tracey and Tom to receive resources, parenting support, and guidance to keep Sarah, Suzie and Jimmy well-cared-for.  Funding also helps clients like Jennifer, who is finishing high school this year and thinking about going to college. She would be the first one in her family to achieve this goal.
Generous donations to the Windermere Foundation over the years have enabled Windermere offices to continue to support local non-profits like Youthnet. If you'd like to help support programs in your community, please click on the Donate button.
To learn more about the Windermere Foundation, visit http://www.windermere.com/foundation.
This post originally appeared on the Windermere.com Blog.